Consumer Units Upgrades Repairs Replacements
Consumer Units/Circuit Boards/Fuse Boards Supplied & Fitted In Liverpool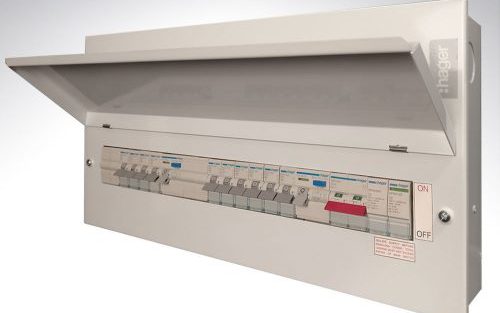 Are you looking to have your consumer unit upgraded or replaced? Is your current fuseboard an older type with rewireable fuses?
Orrell Electrics are experts in upgrading consumer units, we have lost count of the thousands of consumer unit installations and repairs we have carried out over the years, we only install the highest quality consumer units ie MK Honeywell, Wylex, MEM, Schneider, Hager – Visit our Google Business Page for various images of our consumer unit upgrades.
All of our consumer unit installations come complete with an EIC (Electrical Installation Certificate) and are notified with local authority building control ie your local council, we are NICEIC approved electrical contractors and are deemed competent to issue the relevant certification on your behalf.
We will carry out a full test and inspection of your premises and keep you informed every step of the way of any electrical issue that arise.
Electricity in the home and your garden can be dangerous and potentially cause a fatality, so any work involving the electrics in your home, should be undertaken by a suitably qualified electrician, Orrell Electrics are NICEIC approved electricians and specialists in upgrading consumer units.
Consumer Unit Repairs, Upgrades & Replacements – Call Us Today On 0151 526 9998

Back in January 2019, the 18th edition of wiring regulations – British Standard BS7671 "Requirements for electrical installations" came into force setting out the UK's national standard for electrical low voltage installations. This improved the safety standard of electrical installations by making it a requirement that almost all electrical circuits that were to be installed into homes from then should be fitted with an RCD (residual current device) that provides an extra level of protection over and above that found in the old style of fuse box/board (consumer unit).
Old Fuse Box/Board (Consumer Unit)

Many homes are still fitted with the original fuse box/board (consumer unit) that incorporates several fuses with each one being made up of a piece of fuse wire connected to two screws. The fuse wire in each fuse may be of varying thickness and ampage dependant upon the electrical components it is serving such as wall sockets, inside lights, outside lights, shaving point, cooker, immersion heater etc.
Should there be a fault or an overload of the current passing through the fuse wire, the wire will get hot and then melt. As a result of this, the melted fuse wire causes the circuit to be broken, disconnects the item it is supplying electrical current to and keeps you safe.
If you live in a home that has an old fuse box installed you are more likely to have accidents. For instance, should you be cutting your lawn with an electric lawnmower and, by mistake, cut through the cable it is very unlikely that the fuse in the plug will blow resulting in the cut end of the cable attached to the plug remaining live. If, by mistake, you were to pick up the bare end you could possibly receive a fatal shock or suffer burns and be shaken badly. If the grass was wet when you cut it, electricity could pass from the cut end of the cable through the grass and into your body causing a fatal accident.
Modern Fuse Box (Consumer Unit)

A modern fuse box reduces the possibility of accidents in the home as it will detect faults in any wiring and ensure the electricity is disconnected thus reducing the possibility of a fire due to over-heating and reduce the likelihood of you receiving a fatal electric shock.

Today, new consumer units usually consist of three features: –

1. Main switch – this just turns the power on or off in your home.
2. An MCB (miniature circuit breaker) for each circuit (replacing the old rewireable fuse) that will switch itself off should the circuit be overloaded. Once the problem has been identified and corrected the MCB can just be switched back on. An MCB is more reliable, reacts quicker, is simpler to use and safer than the type of fuse found in old fuse boxes.
3. An RCD (residual current device), in the event of a problem, switches off electricity (trip out) at the staggering rate of only 40 milliseconds – that is less than half of one second. So, the chances of you suffering an injury or a fatality are extremely low. This additional safety device is a compliment to the MCB but is more sensitive and responds much quicker providing a further level of protection to help avoid the likes of an electric shock. It constantly monitors the flow of electrical current along a circuit and, should it identify the electric current routing itself through an unintended path such as water, it will rapidly shut off the circuit. So, if that unintended path had been a human being, who had perhaps come into contact with a "live" part that person is, as stated earlier, less likely to be injured.

You can see the benefits of a new consumer unit but you should ensure the installation is undertaken by an electrician that is registered by a Government approved scheme such as The National Inspection Council for Electrical Installation Contracting (NICEIC) who regularly assesses electricians. The main benefits of employing an electrician who is registered with the NICEIC is they have met safety and competence standards, their work complies with building regulations, they have an insurance backed warranty, a guarantee of standards scheme and an independent complaints procedure is in place. If you require an consumer unit upgrade, repair or replacement give Orrell Electrics a call on 0151 526 9998
Our Services
Our skilled electricians are qualified to carry out any electrical repair or installation within Liverpool
Company News
Stay informed and up to date with our electrical blogs