Electricians In Liverpool
Specialist Skills
Orrell Electrics are electrical contractors who cover Liverpool and surrounding areas, we are electrical experts in all the various branches of our work. all of our engineers are held accountable and insured because your trust is important to us.
We have decades of experience in all aspects of electrical work.
From changing a new plug socket to rewiring your home, our electricians and emergency electricians are on call for you 24/7.
Any time you are stuck with an electrical problem that needs fixing, we are here to help
Orrell Electrics demonstrates commitment to quality electrical work with NICEIC approval
Orrell Electrics is pleased to announce that it has successfully undergone assessment with leading voluntary electrical safety regulator NICEIC, and is now an Approved Contractor. This means that Orrell Electrics has demonstrated its ability to competently inspect and test electrical installations, and carry out work that complies with Building Regulations and meets national safety standards.

Gary Price of Orrell Electrics, who will have to undergo annual inspections by the NICEIC to ensure the firm continues to meet standards said: "Orrelll Electrics prides itself on providing a quality service to customers, and our approval by the NICEIC demonstrates our commitment to carrying out electrical work to a high standard."
All householders having work carried out by Orrell Electrics will receive a certificate with a traceable serial number, which confirms the work has been carried out in accordance with national safety standard BS 7671 (IEE Wiring Regulations). For electrical work that must comply with Part P of the Building Regulations, a building notification certificate will be sent to the householder within 30 days of the work being completed.

For further information about Orrell Electrics visit www.orrellelectrics.co.uk, or to find out about the standards that NICEIC Approved Contractors work to visit www.niceic.com.
Our Services
Our skilled electricians are qualified to carry out any electrical repair or installation within Liverpool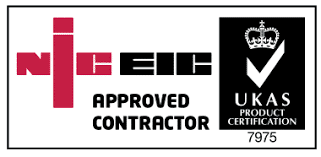 Local Electricians Liverpool
Contractors registered by NICEIC are assessed on a regular basis to ensure that they are competent and capable of meeting the relevant technical and safety standards, codes of practice and rules of the Schemes they are registered to.